Pro Audio & Light Asia '94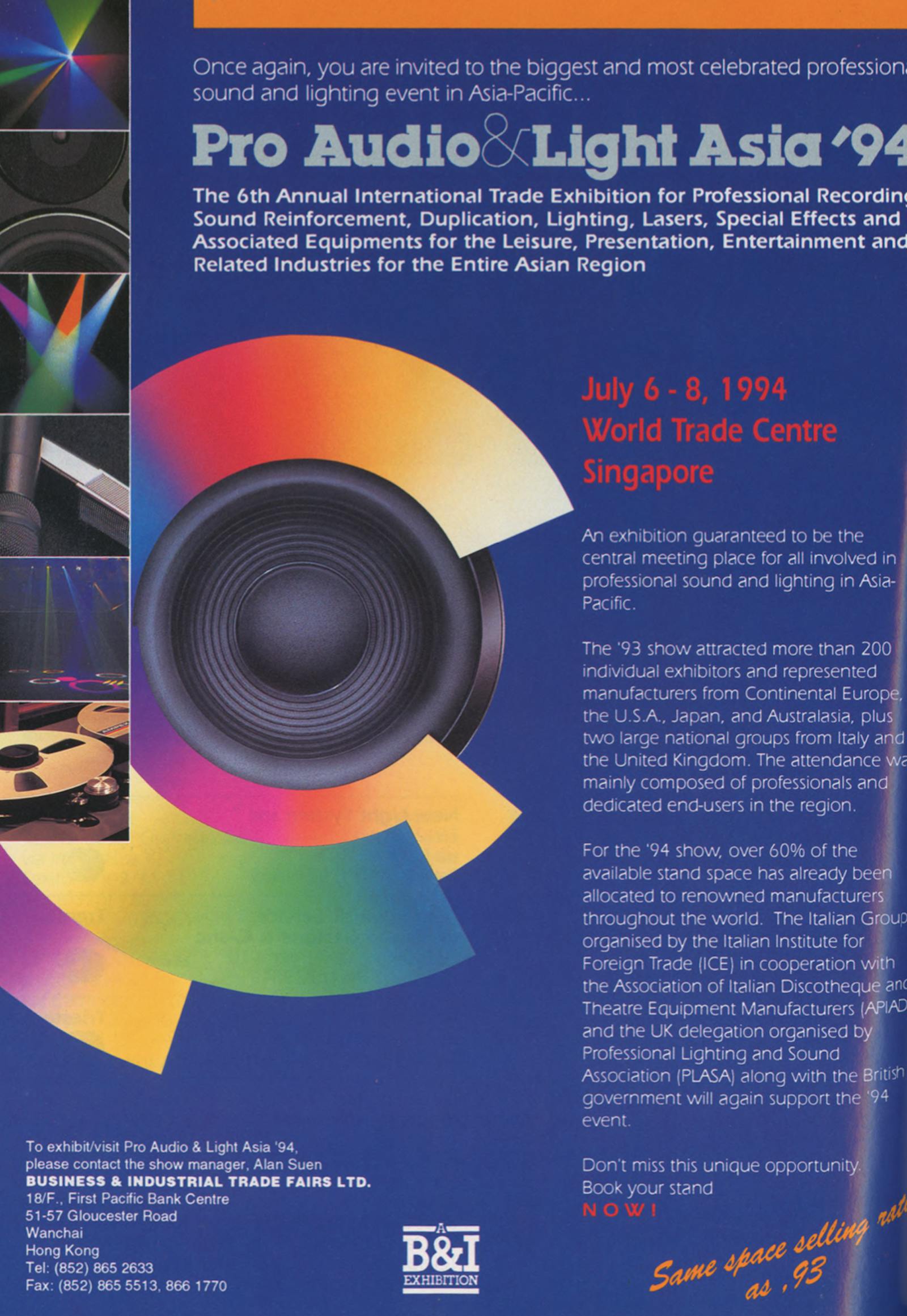 Once again, you are invited to the biggest and the most celebrated professional sound and light event in Asia-Pacific...
Pro Audio & Light Asia '94
The 6th Annual International Trade Exhibition for Professional Recording, Sound Reinforcement, Duplication, Lighting, Lasers, Special Effects and Associated Equipments for the Leisure, Presentation, Entertainment and Related Industries fon Entire Asian Region.
July 6–8, 1994
World Trade Centre
Singapore
An exhibition guaranteed to be central meeting place for all involved in professional sound and lighting in Asia-Pacific.
The '93 show attracted more than 200 individual exhibitors and represented manufacturers from Continental Europe, the U.S.A, Japan, and Australia, plus two large national groups from Italy and the United Kingdom. The attendance was mainly composed of professionals and dedicated end-users in the region.
For the '94 show, over 60% of the available stand space has already been allocated to renowned manufacturers throughout the world. The Italian Group organised by the Italian Institute for Foreign Trade (ICE) in cooperation with the Association of Italian Discotheque and Theatre Equipment Manufacturers (APIAD) and the UK delegation organised by Professional Lighting and Sound Association (PLASA) along with the British government will again support the '94 event.
Don't miss the unique opportunity.
Book your stand NOW!
Same space selling rate as .93
To exhibit/visit Pro Audio & Light Asia '94, please contact the show manager, Alan Suen
BUSINESS & INDUSTRIAL TRADE FAIRS LTD.
18/F., First Pacific Bank Centre
51-57 Gloucester Road
Wanchai
Hong Kong
Tel: (852) 865 2633
Fax: (852) 865 5513, 866 1770
---