STRATOS The freedom of movement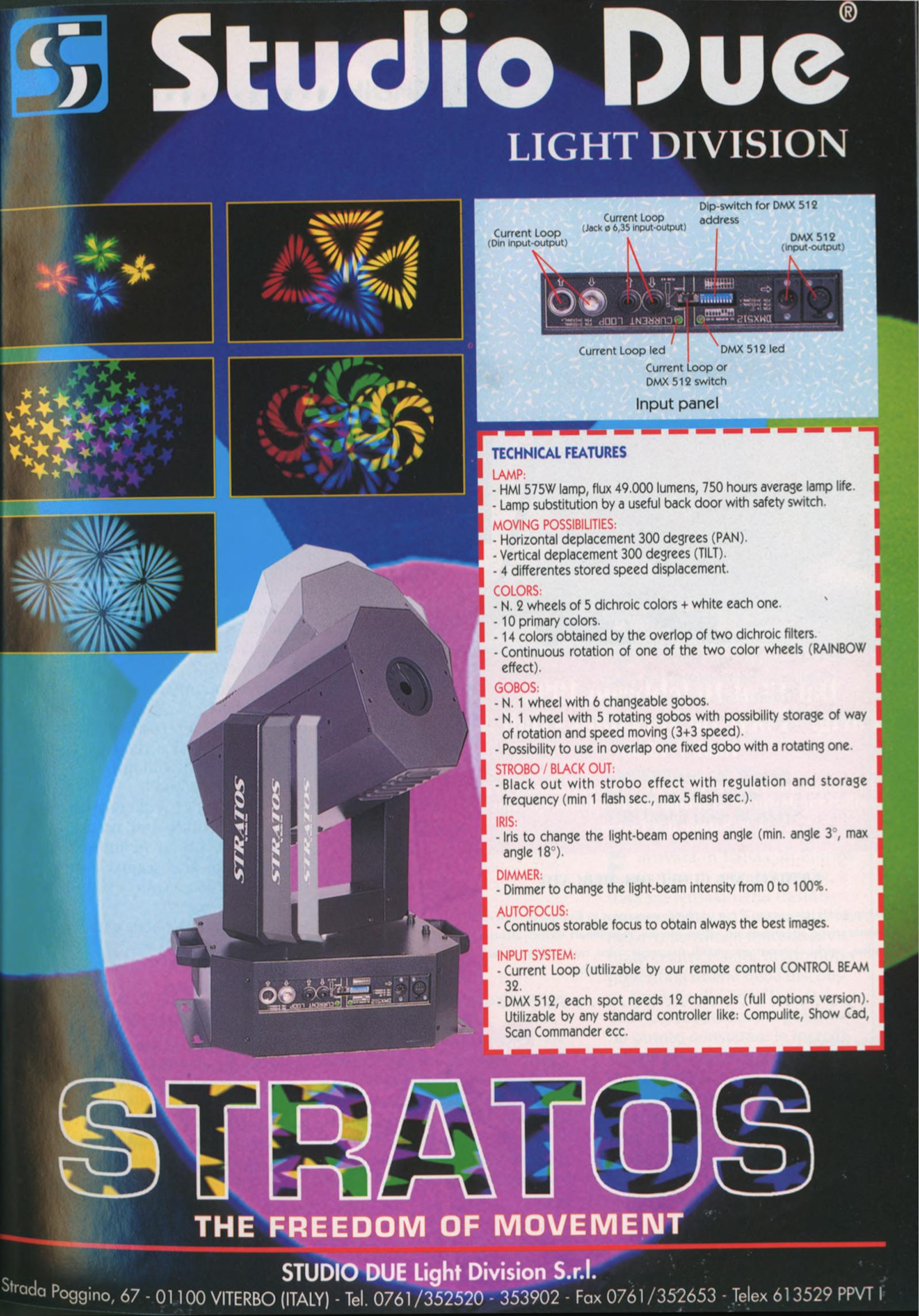 Studio Due Light Division
TECHNICAL FEATURES
LAMP:
Current Loop led
Current Loop or
MOVING POSSIBILITIES:
Horizontal deplacement 300 degrees (PAN).
Vertical deplacement 300 degrees (TILT).
4 differentes stored speed displacement.
COLORS:
N. 2 wheels of 5 dichroic colors + white each one.
10 primary colors.
14 colors obtained by the overlop of two dichroic filters.
Continuous rotation of one of the two color wheels (RAINBOW effect).
GOBOS:
N. 1 wheel with 6 changeable gobos.
N. 1 wheel with 5 rotating gobos with possibility storage of way I of rotation and speed moving (3+3 speed).
Possibility to use in overlap one fixed gobo with a rotating one.
STROBO / BLACK OUT:
Black out with strobo effect with regulation and storage frequency (min 1 flash sec., max 5 flash sec.).
IRIS:
Iris to change the light-beam opening angle (min. angle 3°, max angle 18°).
DIMMER:
Dimmer to change the light-beam intensity from 0 to 100%.
AUTOFOCUS:
Continuos storable focus to obtain always the best images.
INPUT SYSTEM:
Current Loop (utilizable by our remote control CONTROL BEAM 32.
DMX512, each spot needs 12 channels (full options version). Utilizable by any standard controller like: Compulite, Show Cad, Scan Commander ecc.
STRATOS
The freedom of movement
STUDIO DUE Light Division S.r.l.
Strada Poggino, 67 - 01100 Viterbo (Italy) - Tel. 0761/352520 - 353902 - Fax 0761/352653 - Telex 613529 PPVT
---