Pro Audio, Light & Music China '94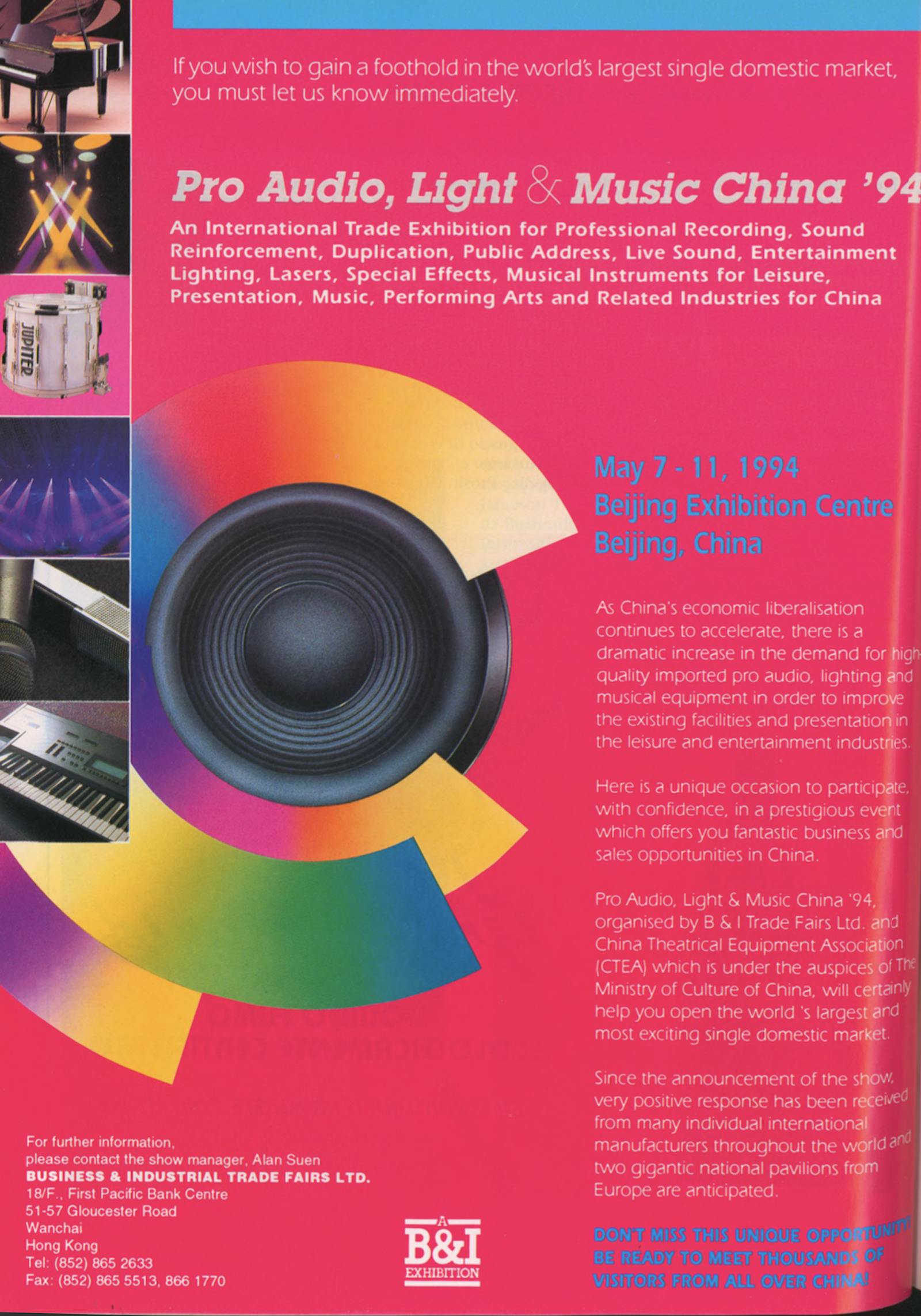 If you wish to gain a foothold in the world's largest single domestic market, you must let us know immediately.
Pro Audio, Light & Music China '94
An International Trade Exhibition for Professional Recording, Sound Reinforcement, Duplication, Public Address, Live Sound, Entertainment Lighting, Lasers, Special Effects, Musical Instruments for Leisure, Presentation, Music, Performing Arts and Related Industries for China.
May 7–11 1994
Beijing Exhibition Centre
Beijing, China
As China's economic liberalization continues to accelerate, there is a dramatic increase in the demand for high-quality imported pro audio, lighting and musical equipment in order to improve the existing facilities and presentation in the leisure and entertainment industries.
Here is a unique occasion to participate, with confidence, in a prestigious event which offers you fantastic business and sales opportunities in China.
Pro Audio, Light & Music China '94, organized by B & I Trade Fairs Ltd. and China Theatrical Equipment Associati (CTEA) which is under the auspices of The Ministry of Culture of China, will certainly help you open the world 's largest and most exciting single domestic market.
Since the announcement of the show very positive response has been received from many individual international manufacturers throughout the world and two gigantic national pavilions from Europe are anticipated.
DON'T MISS THE UNIQUE OPPORTUNITY!
BE READY TU MEET THOUSANDS OF VISITORS FROM ALL OVER THE CHINA!
For further information, please contact the show manager, Alan Suen
BUSINESS & INDUSTRIAL TRADE FAIRS LTD.
18/F., First Pacific Bank Centre
51-57 Gloucester Road
Wanchai
Hong Kong
Tel: (852) 865 2633
Fax: (852) 865 5513, 866 1770
---